Over the weekend, Artur Express, Inc. was amongst 16 trucking and logistics companies that contributed funds to support the citizens of Ukraine who remain in the country during the military invasion by Russia. Within 72 hours, the group, called Trucking & Logistics Professionals for Ukraine raised more than $300,000 in funds.
"We started by reaching out to the trucking companies near us in Illinois," said Dominic Zastarskis, CEO of GP Transco. "With 16 companies currently on board, we are in talks with two dozen other companies in our industry. The people of Ukraine need our help; contact GP Transco directly if you'd like to join us. We don't have ties to Ukraine nor an office there — it just seems like the right thing to do."
"When GP Transco contacted us to help, we did not hesitate; we wanted to help," said Artur Express Vice President of Operations Kristi Randall. "Our hearts and payers go to the people of Ukraine."
Artur Express, GP Transco, MoLo Logistics, RJW Logistics Group, AITIM Consulting, Unlimited Carriers, Arka Express, Brite Logistics, GTS Transportation, KGZ Transport, Highboost Corporation, HMD Trucking Inc., Cadence Premier Logistics, MB Global Logistics, NFI, Fleet Advantage, CarriersEdge, Pilot Flying J and Bond Transit are among the companies now being referred to as the "Trucking & Logistics Professionals for Ukraine."
Donations will go directly to humanitarian aid for the people of Ukraine: food, medical supplies, generators, as well as personnel, such as doctors and nurses.
In a joint statement, Artur Express Presidents Artur Wagrodzki and Tom Tokarczyk said, "It's an honor to partner with these respected companies to provide assistance to the people of Ukraine. Our prayers are with them."
Other professionals in the transportation and logistics industry are encouraged to donate. Supporters may contact GP Transco's VP of business development, Sergey Bort at [email protected] for more information. Additionally, participants may directly contribute to Save the Children, UNICEF, or the International Committee of the Red Cross.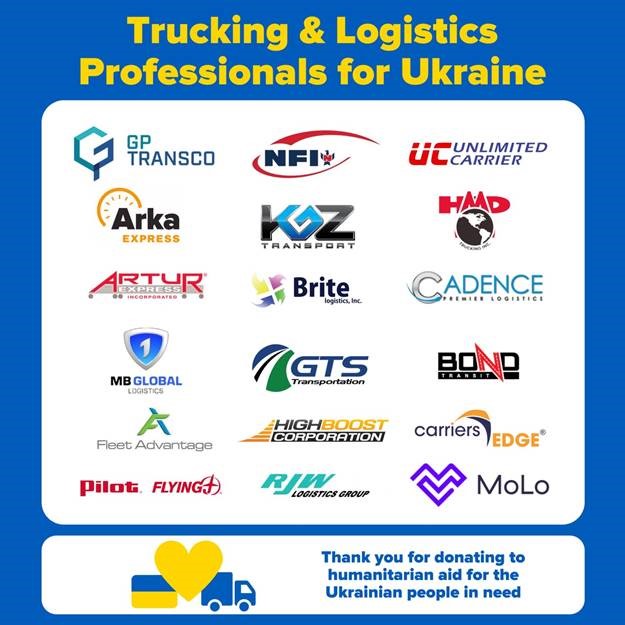 Contributors giving between $10,000 to $50,000 each (listed in no particular order):