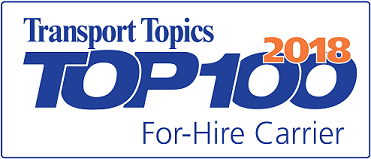 ST. LOUIS, MO – ARTUR EXPRESS ranks #52 in Transport Topics 2018 Top 100 For-Hire Carriers.
Transport Topics published their 2018 Top 100 For Hire Carriers list this week. Artur Express, Inc. ranked #52 in the Truckload/Dedicated division.
"We are excited about the continued growth over our 20 year history. With more dedicated customer drop and hook lanes available, we have great opportunities for every type of driver and contractor. With a fleet of over 1,300 trailers, we can service customers nationwide." stated Artur Wagrodzki, President.
Companies on the latest Top 100 For-Hire Carriers list represent combined revenue of $253.8 billion in 2017, an increase of 9.3% from $232.3 billion in 2016. Transport Topics also publishes a list of the largest for-hire carriers by sector, including Truckload/Dedicated, LessThan-Truckload, Intermodal/Drayage, Refrigerated, Flatbed/Heavy Specialized, Tank/Bulk, Household Goods/Commercial Delivery, Air/Expedited, Parcel/Courier and Mail. To read more about the Top 100 and the issues facing trucking companies in the United States and Canada, visit Transport Topics at http://www.ttnews.com/top100/tl/2018.
Founded in 1998, Artur Express, Inc. is a full-service, nationwide transportation and logistics company headquartered in St. Louis, MO with terminals in California, Pennsylvania and Florida.