Director of Safety Azra Walter is recognized amongst a prestigious list of female titans of the trucking industry.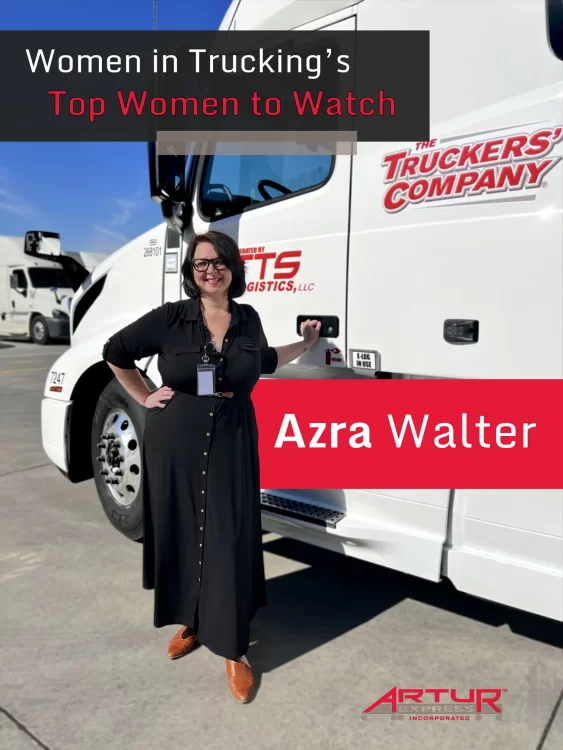 The Women in Trucking Association (WIT) has just announced its annual list of Top Women to Watch in Transportation. Every year, Redefining the Road (the official magazine of the Women In Trucking Association), recognizes the top performers in the industry who not only have had significant career accomplishments in the last year, but go the extra mile to support other women and help to improve gender diversity – at their own companies and/or industry-wide.
Artur Express's Director of Safety, Azra Walter, has made this exclusive list. Walter has been part of the trucking industry for 15 years, starting in logistics at M.A. Associates in Overland Park, KS. Her career path shifted to safety as she began to realize how important and rewarding that department was. For Walter, a carrier's safety department provides a service to the company, the drivers, operations, and the motoring public.
"My proudest accomplishment in trucking is being involved in actively changing how safety is perceived by drivers," Walter said. "Most drivers in orientation say that they would panic if they were asked to see the safety department at their old jobs. At Artur Express, we aim to offer support, encouragement, and education to our fleet."
During her first few months at Artur Express, Walter focused on building trust with the safety team and drivers. As she became familiar with the culture, Walter observed that the safety and operations departments were in lockstep. According to Walter, the importance of safety while keeping the fleet moving is mutually understood and respected.
Congratulations to Azra and all of the other incredible women on the list!
See the full list here: https://www.womenintrucking.org/press-releases/women-in-trucking-association-announces-2023-top-women-to-watch-in-transportation